Destination: VENICE
Venice, one of the most romantic cities
The team at Imaginative Events has travelled to this incredible destination.    Here are our tips on how to get there, accommodation, a Gondola experience and dinner at local restaurant not to be missed.
Getting there: 
We travelled with Qantas on the A380, flight time approx. 15 hours to Dubai then changed over to Emirates for an approximate 6 hour Journey directly into Venice.

When arriving in Venice, the easiest transportation is via Boat to your hotel – think "The Tourist" with Johnny Depp & Angelina Jolie.
Getting to the hotel
By private water taxi

Discover the stunning venetian lagoons and arrive at Hotel Danieli in style. Hotel Danieli arranges Private Hostess Assisted Transfers from your arrival location to the hotel. These transfers are available 24h and require an advance booking of a minimum of 48 hours. Charges are inclusive of a personal greeting by the hostess at the disembarking area of the cruise ship pier, porter assistance, a pre-arranged private water taxi to Hotel Danieli, unaccompanied by the hostess. Upon request, specially equipped motor launches can be arranged for guests confined to wheelchairs.

The Water Taxi service is available from Cruise Ship Pier, Marco Polo Airport, S. Lucia Railway Station and Piazzale Roma for up to 4 people
We stayed at Hotel Danieli, a Luxury Collection Hotel, Venice (A Starwood Property).

A patrimony of Venetian excellence. With its heritage setting on Riva degli Schiavoni, Hotel Danieli dominates the Venetian lagoon steps away from the Bridge of Sighs and the famous monuments of Piazza San Marco.

Essential to the Danieli experience is its rooftop Restaurant Terrazza Danieli with its spectacular views of the Grand Canal. The palatial atmosphere of the hotel and its suites and rooms, house a rich collection of precious art and antiques that play witness to the city's history, artfully blended with contemporary comforts to indulge the wishes of cultured global travellers.

The close proximity to all Venice has to offer, its old world charm and history is why this is one of the most iconic hotels in Venice.  Below is a picture of the room we stayed in.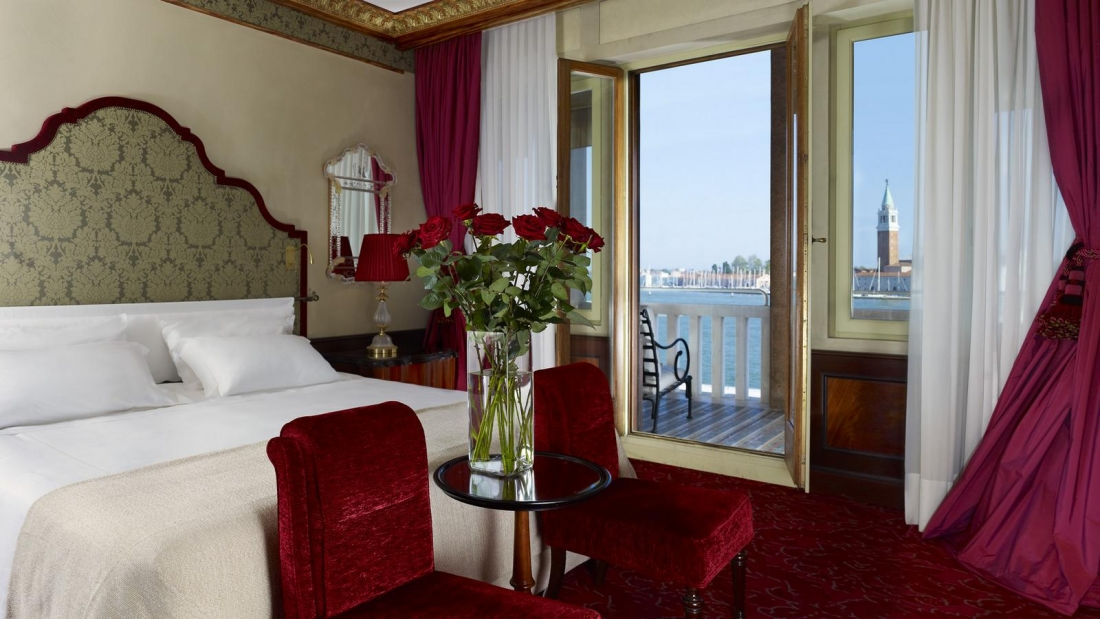 A Gondola Ride
Directly in front of Hotel Danieli awaits your Gondola experience, with approx. 100 euro you will receive a 20 minute ride throughout the canals of Venice, make sure you get a song in there whilst your enjoying your ride through venice.

When I was a young girl, I visited Venice and was captivated by its beauty, mystery and old world charm, today it still radiates the same feel, albeit a few more tourists, yes, but Venice truly is a magical place.
Dinner Reservations anyone? http://www.ilnuovogaleon.com/
IL Nuovo Galeon
Via Giuseppe Garibaldi 1309, 30122 Castello, Venezia VE, Italia

If you are looking for a traditional restaurant in Venice, check out Il Nuovo Galeon – great food run by a traditional Venetian Family.

We recommend the MONK Fish and a local bottle of house red.
Enjoying an aperitif in St Marks Square, Lovers in Venice, strolling the streets of Venice
YOUR TRAVEL EXPERTS